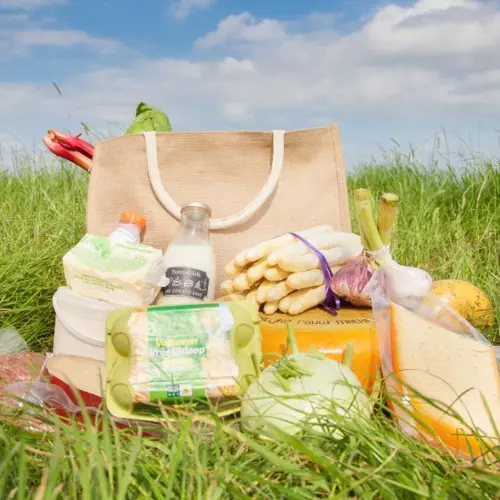 Leimuiden, Rijnsaterwoude, Woubrugge, Langeraar

Here you are most welcome to experience farm life and find pure and delicious local products. You can decide for yourself the length of the ride on the basis of the cycling network. This makes it very nice for children.
De Dyck Restaurant
Love for growing and flowering and old sea clay from the Vierambachtpolder, are the source of the beautiful and authentic products that we grow. Every season they provide the best local products. Their fields and vegetable garden are freely accessible. On signs along the hiking trails you can read all about the origin and cultivation of their products.
Want to read more about De Dyck? Visit the website.
Kaasboerderij Van Harten (Cheese dairy)
In Woubrugge, Van Harten has a dairy farm with over 200 hundred cows in an attractive, unique place in the Groene Hart. They use all the milk to make cheese, butter and other dairy products. You are welcome in their store.
Want to read more about Van Harten? Visit the website.
Aspergehof Noordam (Asparagus farm)
If there is one vegetable that speaks to the imagination, it is most certainly the asparagus. Fortunately, you do not have to go to Limburg or Brabant, because you can find the most delicious asparagus in the Groene Hart. Aspergehof Noordam puts its heart and soul into harvesting asparagus of the best quality right here. Even after the asparagus season ends they are happy to welcome you to try local products from the land.
Want to read more about Aspergehof Noordam? Visit the website.
De Straat-hof
The third generation of Straathofs farms here. In addition to a dairy farm, camping site and lodging at the farm as well as the opportunity to host a private party, you are also welcome to have a cup of coffee or a light lunch. The stable is always open for you and there is the possibility to tap fresh farm milk yourself. In the meantime, the children can amuse themselves making their way around the Corn Maze or with other playthings.
Want to read more about De Straat-hof? Visit the website.
De Vosseburch
Since 1630, de Vosseburch has been a household name in and around the town of Langeraar. It started as a dairy farm with a traditional cheese production, but the love for horses led to the horse farm with barn and guest house and more than 70 horses and ponies. Come and visit their store to taste and purchase the fresh-from-the-cow cheese.
Want to read more about De Vosseburch? Visit the website.
Download Zip bestand